Throwing down a chubby wad of cash on a luxury timepiece is one of the greatest indulgences a modern man can enjoy.
After all: who needs a rainy day fund when you can inspire jealousy, awe and lust wherever you go instead?
But you'll have to pick up a helluva lot of paper-rounds to feel the cold press of one of these beauties on your wrist.
Presenting: the most valuable watches in the whole wide world.
(For the sake of fairness, we've left out all the pricey models that are caked in bazillions of diamonds. Because that doesn't really count, does it?)
PAUL NEWMAN ROLEX DAYTONA – £13.5,000,000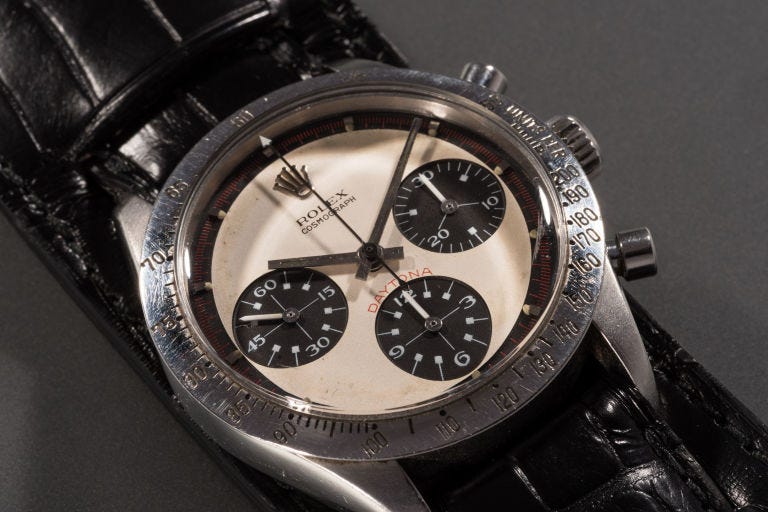 The eponymous Rolex gifted to Paul Newman by his wife Joanne Woodward (it's engraved with the message "Drive Carefully" in reference to his love for racing) in 1968, the Paul Newman Daytona has been considered a holy grail timepiece amongst collectors and fans for decades, but even the most fervent Rolex fanboys couldn't have imagined just how much it would reach in auction.
Given a conservative price tag of £1,000,000, King Cool's everyday watch, with its black-and-creme exotic dial, was eventually sold to an undisclosed phone buyer for a brain-melting £13.5,000,000 — the equivalent of 9,030 2017 Rolex Daytonas. 
Yeah, but they never touched the wrist of Newman, did they?
MAITRES DU TEMPS CHAPTER ONE ROUND TRANSPARENCE – £404,000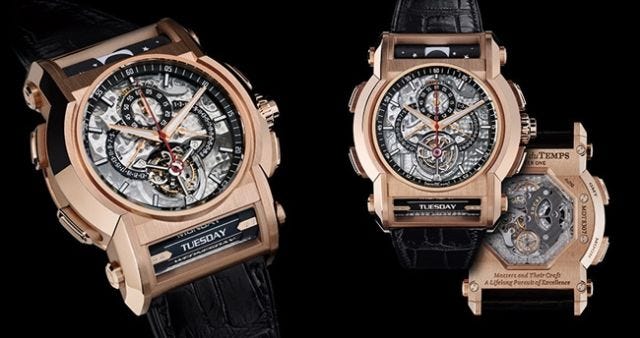 Tick-tock supremos Maîtres du Temps are famous for bringing together some of the most exceptional watchmakers in the world to collaborate on game-changing models – and the 'Chapter One Round Transparence' is the perfect example.
A mish-mash of idiosyncratic design philosophies and varying schools of horology (read: watchmaking), the 'Chapter One' is both classic and complex. That's not to mention the 18k red gold case and limited edition engraving that really sets it apart (only 11 models were made).
At a wallet-demolishing £404,000, it stands out as a much sought-after tribute to the industry's fascinating past and exciting future.
BULGARI MAGSONIC SONNERIE TOURBILLON WATCH – £464,000
When Italian jewelry monolith Bulgari purchased Swiss watch brand Gerald Genta, the most celebrated (and money-spinning) result was this: the 'Magsonic Sonnerie Tourbillon'.
It's loud-and-proud, contains enough ultra complicated function for the proper 'heads' amongt us, and is packed with an array of chimes that have been enhanced by a special "magsonic" alloy.
At £620,000, it'll make just as much impact on your wrist as it will on your life-savings.
AUDEMARS PIGUET ROYAL OAK GRANDE COMPLICATION – £741,600
Audemars have previous when it comes to crafting head-spinning cocktails of complications (shop-talk for 'features') – in fact, they've probably been doing it longer than any existing watch manufacturer.
But the 'Grande Complication' is undoubtedly their best yet.
The fiddly insides are all hand-finished, cut-out and beadblasted with polished bevels, and feature a matte surface underneath. This is all accompanied by a wealth of features, including split-second chronograph, perpetual calendar and a minute repeater.
And what's more, it look bloody lovely too. The titanium model will set you back over 700k, but can you really put a price on style? (yes. Yes you can. But it's okay to stare a little longer).
PATEK PHILIPPE 5004T – £2.98 MILLION
A one-of-a-kind timepiece produced in 2013 specifically for auction, the '5004T' is the only titanium version of the beautiful-but-alas-discontinued 'Patek Philippe 5004' collection.
The Swiss watch dons caused a stir in the industry when they created the rare edition, which adopted a sportier, more colourful look than its more conservative family members. Think of it as the Fresh Prince to the '5004's Carlton.
It sold at £2,985,000 in a hotly contested auction, and has been lusted after by longing wrists ever since.
LOUIS MOINET METEORIS COLLECTION – £3.5 MILLION
Named after Louis Monet, the celebrated 18th century-born father of chronograph watches, the 'Meteoris Collection's astronomical price tag is pretty fitting, all things considered.
The collection – four watches in total – feature precious stones and meteorite pieces integrated into the dials. Each watch showcases a unique piece of rare space rock: for example, the 'Tourbillon Mars' includes a fragment of the Jiddat al Harasis 479 meteorite, an authentic, 180 million year-old piece of the planet Mars that fell to Earth.
So yeah: pretty special. Martian meteorites can sell for as much as $1,000 per gram – more than 15 times the price of gold. It's the closest you'll get to experiencing space, short of sharing a Virgin Galactic flight with Richard Branson. He'd probably chat your face off for the whole journey, and make you drink Virgin Cola too. Go for the watch instead.