Miss South Africa Zozibini Tunzi was crowned Miss Universe 2019.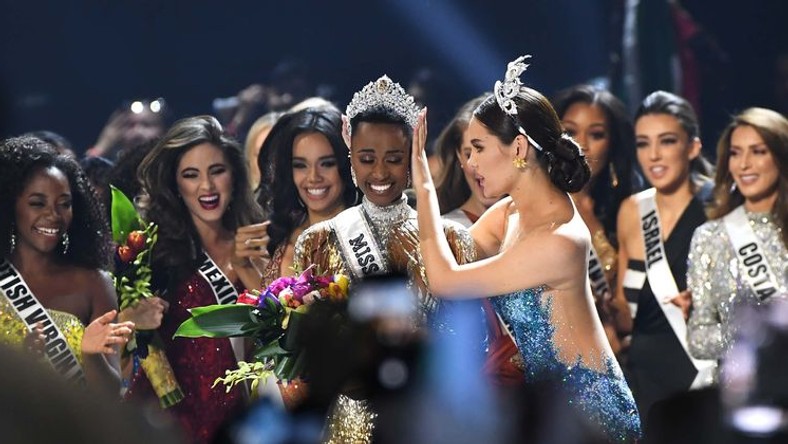 The grand finale of the Miss Universe 2019 contest held on Sunday, December 8, and Miss South Africa went home with the desired crown.
About 90 women from across the far corners of the known universe assembled on Sunday to compete for a new crown. The 68th annual Miss Universe competition which was hosted by comedy icon/ TV host, Steve Harvey, and Olivia Culpo (Miss Universe 2012) was filled with glitz and glamour as expected.
Zozibini Tunzi was crowned Miss Universe Sunday night after excelling through rounds of swimsuit and evening gown struts, questions on social issues and one final chance to explain why she was the right choice.
The 26-year-old contestant finished first ahead of the Puerto Rican and Mexican finalists who were the first and second runner-up respectively. The winner is the first black woman from her country to wear the Miss Universe crown. On accepting the crown, she gave a speech that got everyone drowned in their emotions.
"I grew up in a world where a woman who looks like me, with my kind of skin and my kind of hair — was never considered to be beautiful. "I think it is time that that stops today. I want children to look at me and see my face and I want them to see their faces reflected in mine."
Olutosin Araromi, who represented Nigeria at the Miss Universe 2019 finished her race for the crown at the top 20.
A big congratulations to the new queen.
Source: https://www.pulse.ng/lifestyle/food-travel/miss-universe-2019-zozibini-tunzi-miss-south-africa-takes-home-the-crown/k5c0lwn