Since the turn of the year, Nollywood has seen an upturn in official soundtrack culture. Larry Gaaga is also one of the driving factors in the relatively new niche.
Producers of 'Living In Bondage: Breaking Free' and 'MTV Shuga Naija' have teamed up with Larry Gaga to produce original soundtracks that can be additional sources of revenue for the respective TV productions. MTV Shuga is known to have produced each season with a soundtrack and music acts like Ice Prince, KCee, Seyi Shay and J Martins have appeared on soundtrack of the youth oriented TV series.
Larry Gaga is taking the lead in 2019 as he's working with Davido for'Living In Bondage: Breaking Free', the highly anticipated sequel to 90s hit, 'Living in Bondage,' and also with Vector on MTV Shuga Naija 4.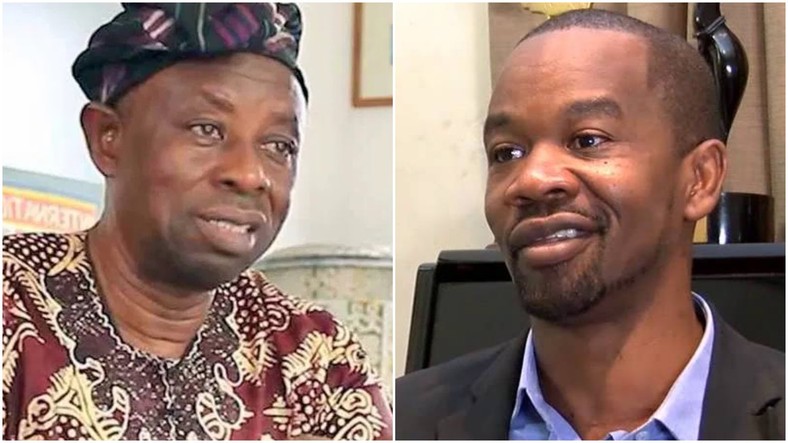 Tunde Kelani, Kingsley Ogoro were some of the leading filmmakers, who ensured they had a soundtrack for their big films in the 90s. [Channels TV]
This follows the template of Hollywood to create original soundtracks that are unique to the film they are meant to support.
This way, the budget is adequately spent and revenue streams can be generated. As in Hollywood movies like 'Birth of a Nation,' the soundtracks are not even played in the movie. As a result, in that clime, movie soundtracks generate tens of millions of dollars and platinum certifications – for moving one million units in equivalence of albums sales.
Sadly, Nollywood doesn't have that structure. Selling movies and music is already a chore. Artists have to scramble for streaming/sales revenue from their music. That is after paying PROs and composers first. This is because the Nigerian clime is not healthy for music sales at this time. Thus, Nollywood producers have rarely explored the idea of independent original movie soundtracks.
That said, we have a history
From the days of popular soap operas like Papa Ajasco, Super Story, Palace, Everyday People, Family Circle and others, there were theme songs. These theme songs are popular with their audience. However, they were not the true test of original soundtracks.
A genuine original soundtrack has to be a set of specially composed songs for a movie. Nollywood definitely saw a lot of that in the 80's and 90's, but not until the late 90's and the 2000s did original soundtracks have a home in Nollywood. Producers like Late Hubert Ogunde, Tade Ogidan, Tunde Kelani, Kingsley Ogoro and so forth worked with music professionals to craft original songs for their films.
During this period, singers like Mike Nliam, Stanley Okoria, Sammie Okposo, Sola Allyson-Obaniyi and recently Tope Alabi worked with the movie directors and producers to lend their singing abilities to their stories. Their voices became synonymous with the home video era. As they became brands, their sounds also found a place in people's hearts. However, even with all these stars, most Nigerian producers never film produced independent albums from their movies.
Some of the few who created original soundtracks independent of movies are Tade Ogidan for 'Madam Dearest,' and Bimbo Oshin for 'Eji Owuro'. However, most people simply ignored this avenue to add some notoriety and impact to their movies. OSTs are also a source of additional funds for movies.
Why did producers neglect this for so long?
Well, it's a combination of factors. The first of those factors is a problem of funding. A few years ago, E.TV Africa used to do a jingle every quarter of an hour. It was frustrating, but it gave us a few facts. One of those facts is that Nollywood movies were made with an estimated $10,000 and under. At the time, $10,000 was between one million Naira and N1.5 million.
Running on such a shoestring, you cannot then afford to expend energy on music that might or might not sell. Sometimes, like with 'Eji Owuro,' and Sola Allyson-Obaniyi, the music requires little push to take off, but a lot of times, the music requires great sound, production, mixing and marketing. Those require funds and Nollywood cannot afford it.
This is aided by how dysfunctional the Nigerian music industry is. Record sales are a very unreliable means of revenue generation. It's already hard enough to sell movies, producers didn't want to add the additional stress of music when revenue is far from guaranteed.
In other cases too, ignorance played a role. A lot of producers with good, marketable music didn't just realize that their music can be marketed. One of such examples is 'Oyato,' the 2000's socio-political flick that starred Tony Umez, Omotola Jalade-Ekeinde. The music on that movie was so good, yet it was never marketed independently of the film. Same is applicable to 'Koto Aiye' and 'Koto Orun', some of the many productions by late actor and producer, Alhaji Yekini Ajileye.
While nothing is guaranteed, good music always sells itself. Other times, the problem is a lack of collaboration that takes on an unwillingness. Some producers have the nose to craft good music and have the network to market, but they're unwilling to help any artist blow up and make money. So, they would rather not make the music.
These problems impaired the Nollywood's ability to take on original soundtrack as an additional means of revenue and promotion for their movies until recently.
What changed?
A lot of things remain the same, but industry practitioners are now more educated on risk-taking. The advent of streaming and social media also mean that movie producers stand to make some revenue directly from their OSTs. Social media also means that if the music blows up, it could be effortless promotion for the movie.
Aside these, top Nigerian musicians are beginning to open up to collaborative effort with producers to make songs as original scores. From Davido, Sound Sultan to Flavour and most recently, Larry Gaga, celebrated artistes and film producers now understand a seamless way of collaborating for growth in the industry as well as dual forms of revenue and promotion for music and movies using one channel.
Songstress, Chidinma joins the league by performing the Original Score for Imoh Umoren's biopic, 'The Herbert Macaulay Affair'. The original score has a video with scenes from the film and Chidinma rendering the song, which is entitled 'Nobody's Fool'.
Strategic positioning never looked better. That is why 'Living In Bondage: Breaking Free' has become a worthy headliner for the new OST direction of Nollywood. Will it last? Only time will tell. But for now, it looks good for Nollywood and it's about time.
Source: https://www.pulse.ng/entertainment/music/opinion-examining-nollywoods-soundtrack-culture/4t9m3k7